Leaving Tehachapi wasn't like leaving the other previous town stops. This time, we were officially entering the Sierra Nevada range! While the trail at first wasn't that different from the previous descent into Tehacahpi, there was just that feeling of newness and excitement.
We didn't hike out of town too far and found a nice, sheltered tent site out of the super high winds. We packed out half of our sandwiches from Kohnen's Bakery in town (ridiculously good by the way) for dinner. After filling up on roast beef sandwiches, we went to bed in our cozy, warm tent.
Emphasis on cozy. There's not a ton of space in there.
A Change in the Mountains
While things didn't look much different on the climb out of Tehachapi, the next day the landscape really began to change. There were still wind turbines abound and the flora and fauna remained the same,but the character of the mountains appeared vastly different.
For the next three days, we hiked through meadows, beautiful forests that looked more like home than ever, and then back into a more desert-like climate.
We have been very fortunate with multiple water caches in this section as well and there is not enough gratitude in the world for the trail angels that stock these caches for hikers. With the growing numbers of thru-hikers each year, I'm not sure how they keep up with the demand. These caches are found on the PCT water report and are often found in sections where you may have had to carry enough water for 40 miles.
Walker Pass
The day we hiked down to Walker Pass, we didn't see a single thru-hiker the entire day. This does happen every so often and we experienced this on the AT as well, but I wasn't expecting it to happen so early on.
Later that day, we were about to walk down to the Walker Pass Campground to eat our ramen for dinner, when we noticed a large group of hikers gathered around a picnic table and a white truck. It was trail magic! A local couple from Bakersfield and her dad come out a couple of times a year to provide a massive spread to thru-hikers. They had beef brisket, turkey with stuffing, homemade bread, Rice Krispie treats, pasta salad, and baked potatoes. It sure beat Ramen for dinner.
Ridgecrest Resupply
The next morning, we were up a bit earlier than usual so that we could catch the local bus into Ridgecrest to resupply for the next stretch to Kennedy Meadows. A small bus pulled up with a full load of hikers getting back on trail from Lake Isabella. We briefly chatted with Lost Boy and Annette whom we hadn't seen since Warner Springs, 500 miles ago!
The bus ride to Ridgecrest was much quicker than the anticipated 45 minute drive out of the mountains as we were the only two on the bus. We got off at the last stop, Walmart, where we got Subway for breakfast and then resupplied. Being there at 7 AM was quite nice since we had the entire store practically to ourselves.
We had planned to hang out at a Starbucks nearby until the next bus came that afternoon, but we soon found out that the Starbucks on our Apple Map was only a kiosk in the local Albertson's grocery store. Fail.
Instead, we walked a mile up the road to hang at McDonald's for a couple of hours. It was a day for American chain stores as we made our way across the parking lot to get Denny's for lunch and then went back to McDonald's to use their WiFi once more, grab dinner to-go for the trail, and continue to wait for the bus. Needless to say, after about 7 hours in Ridgecrest, we were ready to get back to Walker Pass.
We hiked about 5 miles out of the pass to a sheltered camp site where two section hikers from Oregon were already set-up. We have hiked on and off with them since Baden-Powell and it was nice to finally chat with them as most of our encounters have been brief. One of them is hiking the PCT in sections each year since 2013. He's just about half way through now.
More Trail Magic!
Basically, all we've thought about the past week is getting to Kennedy Meadows, so we thought nothing of our stop at Chimney Creek Campground the night before. As we sat by the creek filtering our water, a man walks by and asks us if we'd like some dinner at the campground. We couldn't say no to that offer!
As we approached his campsite, we soon found out his name was No Hawk and he was one of 15 people to thru-hike the PCT in what I believe was 1977. He said his starting pack weight was 75 lbs! There were about 20 of us there that night and he cooked us all chili dogs and made up a fresh salad. He had several books to peruse on the trail including a Sierra Nevada field guide, which I particularly enjoyed.
We may have stayed up much later than usual, like 10 PM rather than the usual 8 PM bed time, but it was worth it. Sitting in a chair with a back is a luxury out here. It sounds ridiculous, but it's so true. I was wiped when I finally made it to my tent and slept the best I have in the 6 weeks we've been out here so far.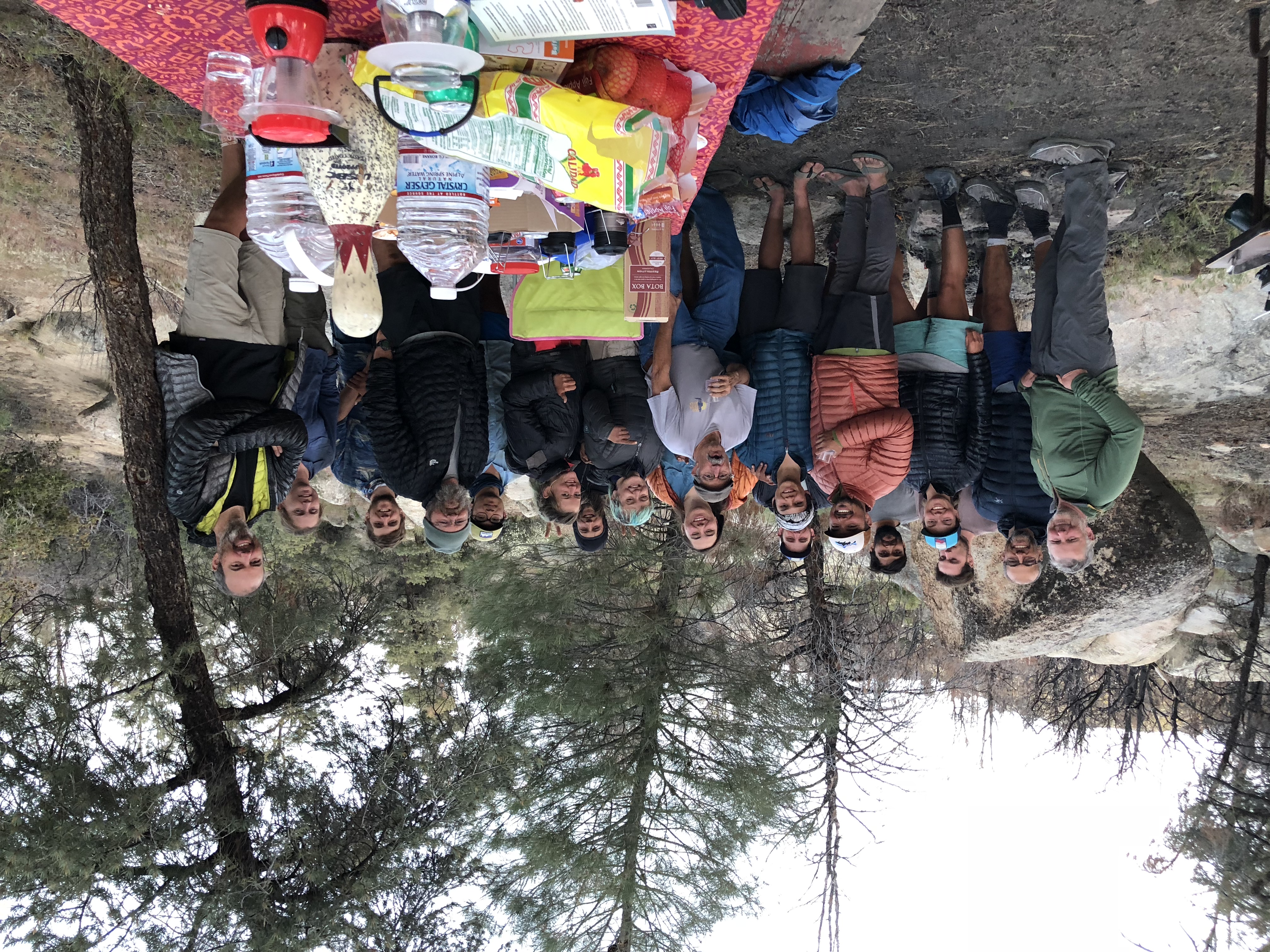 Kennedy Meadows
With our later night, we were up a bit later the next morning. No Hawk was up and about making a huge batch of pancakes for us before we headed out. We were some of the first ones up and he made a point to come over to us and make sure we stopped in for pancakes.
After a few delicious pancakes and a hug from No Hawk, we took on the 6 mile climb out of the creek. While we've been seeing the Sierra range for a few days now, it was finally up close and personal as we made our way to the top. As this hike is only my second time to California and my first time seeing the Sierra Nevada range, it was pretty incredible to finally be at this part of the trail. Not long after, we were descending to the Kern River and walking amongst one of the most beautiful areas of trail so far. It's certainly only a taste of what's to come.
Not long after we entered Kennedy Meadows, we hit the 700-mile marker! As we approached the road, we saw a couple unloading a cooler from their truck. When we arrived, they had left, but it was fresh trail magic! Cold drinks, apples, bananas, and cherries. It was like someone saying, "Congrats! You made it to Kennedy Meadows!"
We made our way up the road to the infamous Kennedy Meadows General Store and as we walked up the parking lot, all of the hikers sitting out on the deck clapped and cheered for us. At first, I was wondering who they were clapping for and then realized it was for us! That was definitely a moment I won't forget.
We hung out for a bit with some other hikers – Verde, Sailor, Steve, Miraj, and Tree Beard and clapped and cheered for the hikers coming up to the store. Packages were waiting for us at Grumpy Bear's down the road however, so we soon got a hitch from a 2015 thru-hiker who had converted a large van into her traveling home.
We forwent all of our town chores for the evening and hung at Grumpy Bear's eating dinner and watching the Celtics game. I did get in my first shower in a week though! Tomorrow, we will worry about laundry, getting our boxes, and preparing our gear for the Sierra.
Entering the Sierra
As we enter this next section of trail, we will face new challenges of weather, added pack weight, and snow. We will have our bear canisters, ice axes, and microspikes for the next few hundred miles and there is some uncertainty about approaching the trail ahead. I've heard some hikers who have bailed out due to late snowstorms and others who are making it through just fine. We will receive more updated info as we make our way to Lone Pine and will need to be safe and smart rather than worry about making the miles.
In the next week, we will attempt to summit Mt. Whitney, the tallest mountain in the contiguous United States, so we really hope everything works out for a sunrise hike there.
We are so ready for the Sierra and to witness more incredible mountain beauty ahead.
Next stop: Lone Pine